Sky Sports has announced 10 more Sky Bet EFL fixtures to be shown live on Sky Sports Football throughout the festive period.
In the lead up to Christmas, Barnsley host West Brom on Friday December 17, Middlesbrough face Bournemouth on Saturday December 18 and Fulham and Sheffield United meet at Craven Cottage on Monday December 20.
On Boxing Day, Stoke's trip to Barnsley takes centre stage, while there is a bumper day of action on Monday December 27, with Doncaster vs Sunderland, Derby vs West Brom and QPR vs Bournemouth all set to be shown across Sky Sports.
And 2022 begins with Sheffield United vs Middlesbrough on New Year's Day, before Swansea take on Fulham on Monday January 3.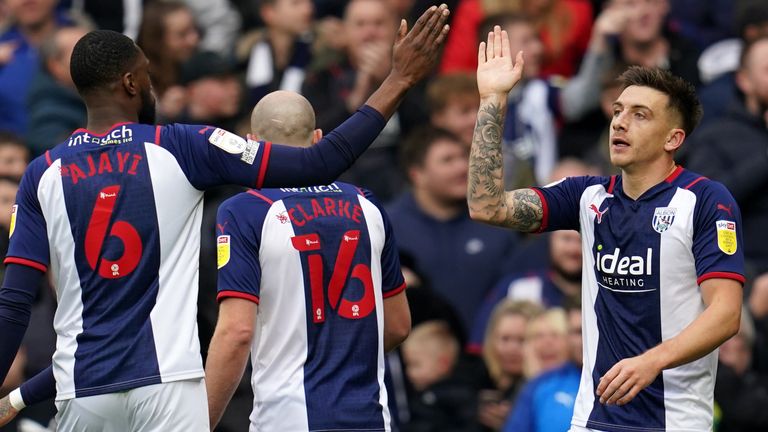 Confirmed EFL games on Sky Sports Football
November
Tues 2: Luton vs Middlesbrough (7.45pm) (five other games across Sky Sports)
Wed 3: Blackburn vs Fulham (7.45pm) (five other games across Sky Sports)
Sat 6: Blackpool vs QPR (5.30pm)
Sat 13: Port Vale vs Bradford (12pm)
Fri 19: QPR vs Luton (7.45pm)
Sat 20: Sheffield United vs Coventry (12.30pm)
Sun 21: Derby vs Bournemouth (12pm)
Tues 23: Coventry vs Birmingham (7.45pm) (four other games across Sky Sports)
Wed 24: Bristol City vs Stoke (7.45pm) (six other games across Sky Sports)
Fri 26: West Brom vs Nottingham Forest (8pm)
Sat 27: Preston vs Fulham (12.30pm)
Mon 29: Derby vs QPR (7.45pm)
December
Fri 3: Fulham vs Bournemouth (7.45pm)
Sat 4: Coventry vs West Brom (12.30pm)
Sun 5: QPR vs Stoke (2.30pm)
Tues 7: MK Dons vs Plymouth (7.45pm)
Wed 8: Portsmouth vs Sheffield Wednesday (7.45pm)
Sat 11: Huddersfield vs Coventry (12.30pm)
Mon 13: Sheffield United vs QPR (7.45pm)
Fri 17: Barnsley vs West Brom (7.45pm)
Sat 18: Middlesbrough vs Bournemouth (12.30pm)
Mon 20: Fulham vs Sheffield United (7.45pm)
Sun 26: Barnsley vs Stoke (3pm)
Mon 27: Doncaster vs Sunderland (12.30pm), Derby vs West Brom (3pm), QPR vs Bournemouth (5.30pm)
Thurs 30: Nottingham Forest vs Huddersfield (7.45pm)
January
Sat 1: Sheffield United vs Middlesbrough (12.30pm)
Mon 3: Swansea vs Fulham (3pm)